SKI POLE BASKETS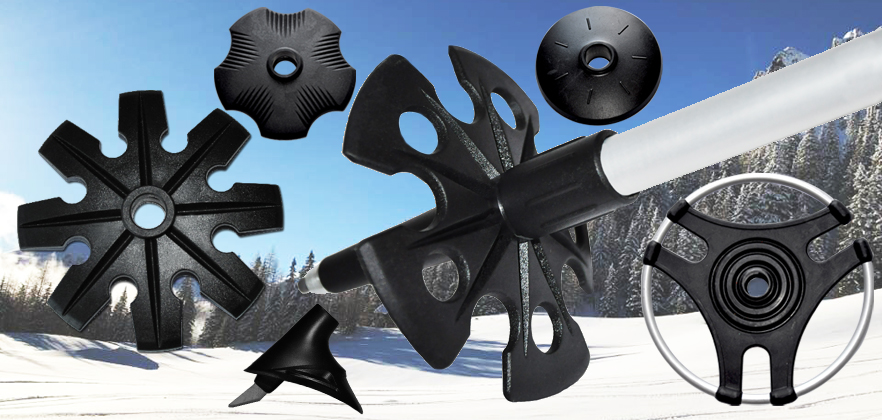 High quality ski pole baskets
All our ski pole baskets are made of top-quality material, which is resistant to low and high temperatures.
Even at - 30°C our baskets for ski poles do not crack and they are still flexible (important for winter ski pole baskets).
On the other hand they remain firm up to + 35°C (important for summer baskets).
What differs our baskets for ski poles from low-budget baskets is our top-quality material. Most producers use LD-PE (low density polyethilene) that is not resistant to cold temperatures. Baskets for ski poles made from LD-PE tend to crack quickly at sub-zero temperatures.
Types of baskets for poles
Our programme of pole baskets includes:
summer baskets

winter baskets

freeride/powder baskets

baskets for children

nordic baskets for Cross Country and rollerski
Mounting options of pole baskets
We offer two different types of mounting of ski pole baskets:
N = snap-fix basket (without thread)
G = screw on basket (with thread)
"N" version ski pole basket is permanently attached to ferrule, basket fastening nipple or pole, "G" version is detachable from ferrule/pole - you can unwind it from the tip or basket fastening nipple.
All our baskets for ski poles are available as "N" version (except basket FK1013/G, which is available only as "G" version), while "G" version is available on certain baskets (please see N/G marking at the name of the basket).
Ski pole baskets in colours? Our pleasure!
Our ski pole baskets are generally in stock in black colour (unless the offer below shows differently), but we're happy to produce them by request in any other colour (MOQ is 500 pcs.).