How to Choose Ski Poles & Ski Pole Size Chart [Ultimate Guide]
25. August 2021
If you're asking yourself "What size of ski poles do I need?", are looking for a ski pole size chart or simply want to learn all there is to ski poles, you're in the right place.
Ski poles, ski pole baskets and ski pole ferrules are an essential part of a safe and happy skiing experience.
But choosing a suitable ski pole or its component can be hard.
That's why we prepared the most comprehensive guide to choosing the most appropriate ski poles and ski pole accesories.
Here your will find out what ski poles are, what they are made of, what materials are used in production and how to measure and assemble the ski pole components.
We wish you a safe snowy experience :) 
Table of Contents 
Click for easy navigation between sections.
Ski Poles
Ski poles are a popular and frequently used part of sport equipment especially in more hilly and mountainous countries around the globe with distinguished climate conditions determined by year seasons.
According to the skiing discipline different kinds of ski poles are produced:
Cross-country ski poles
Alpine ski poles (for downhill, super-G, GS, slalom, free-ride)
Rollerski poles (for roller skiing and skike)
Other types of poles are hiking, trekking and Nordic walking poles which are usually telescopically adjustable (made of 2 or 3 parts of shafts with different diameters).
Materials Used For Shafts of Ski Poles
As with everything else in life, better materials make for a better experience. Ski poles are no exception.
Which materials are most commonly used for ski poles?
Aluminum is mostly used for entry-level poles, junior and beginner poles as well as for trekking and hiking poles. It is a durable and the most economical material, but heavier than carbon fiber or other contemporary high-tech materials.
High grade aluminum is mostly used for high end poles. It is strong and durable (yet lighter compared to standard aluminum) while providing a stiffer feel than some of the lighter weight composite or carbon fiber alternatives. 
Poles made of composite are more durable and flexible than standard aluminum (they can bend more without breaking).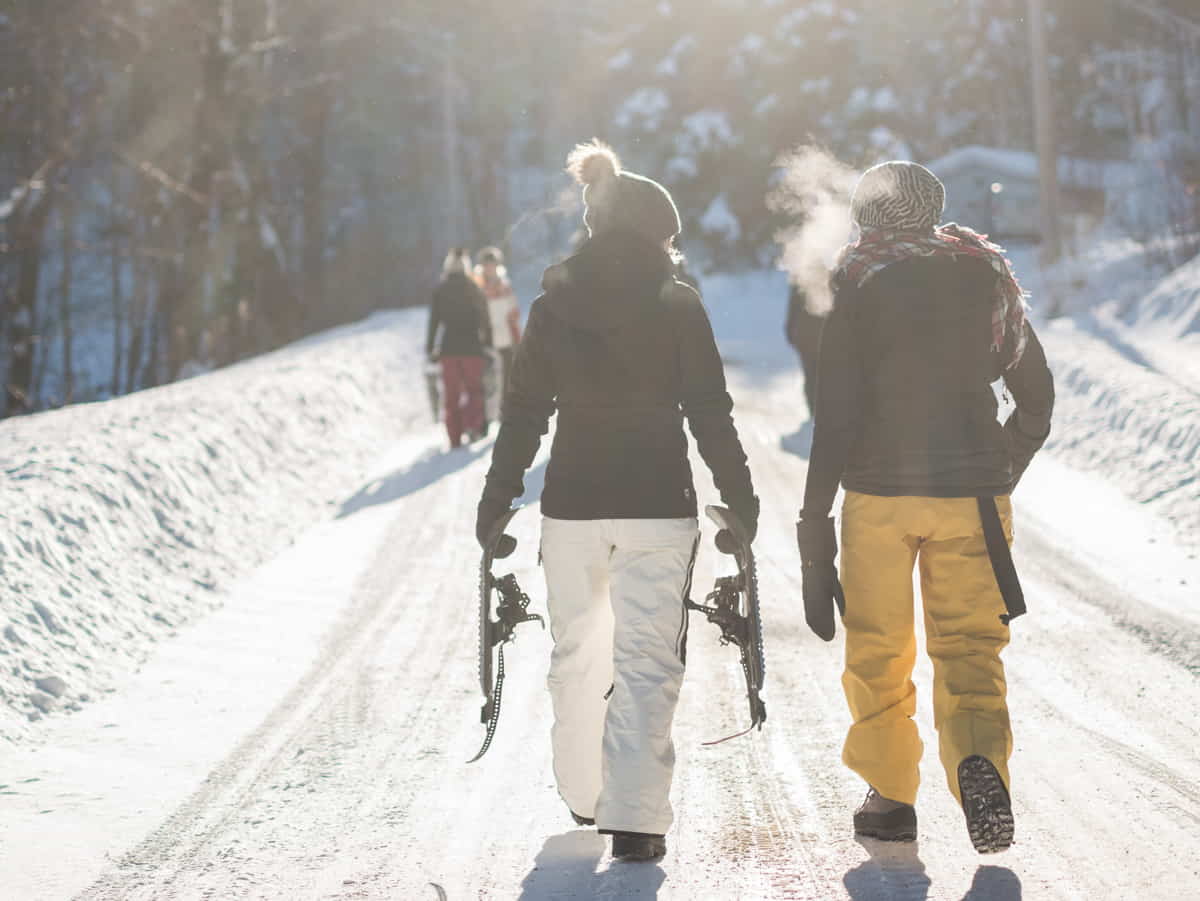 Carbon fiber shafts are used for advanced and expert poles. Carbon offers a high strength to weight ratio and improved durability while maintaining an ultra light feel. 
The use of bamboo for pole production is again on the rise and becoming more and more trendy. Bamboo is a natural material that provides a perfect balance between rigidity and flexibility and doesn't bend like regular aluminum poles or snap like carbon fiber poles.
Ski Pole Size-Chart
You're probably asking yourself "What size of ski poles do I need?". 
We're here to help.
Below you can find instructions on how to measure the ski pole length and a ski pole sizing chart/calculator.
How to measure ski poles for suitable length:
Put your hands to your sides, and pull the forearms upwards so they form a 90° angle against your torso (parallel to the floor)
Hold the ski pole upside down
Grab it underneath the basket
Disclaimer: Some skiers  prefer slightly shorter ski poles based on current skiing technique. In case the angle in the elbow is less then 90° the pole will be too long.



We have also provided a size-chart to help you find a suitable ski-pole.
USER HEIGHT

POLE LENGTH

in centimeters

in inches

in centimeters

in inches

124,5 – 132,1

4'1" - 4'4"

95

38

132,6 – 142,2

4'5" - 4'8"

100

40

144,8 – 152,4

4'9" - 5'0"

105

42

154,9 - 160

5'1" - 5'3"

110

44

162,6 – 167,6

5'4" - 5'6"

115

46

170,2 – 175,3

5'7" - 5'9"

120

48

177,8 – 182,9

5'10" - 6'0"

125

50

185,5 – 190,3

6'1" - 6'3"

130

52

193,1 – 198,1

6'4" - 6'6"

135

54

200,7 +

6'7"+

140+

56+
Ski Pole Baskets
Baskets for ski poles are round, predominantly concave, plastic plates or discs made in different sizes and placed on the bottom part of ski poles. They are mounted directly on the ski pole adapter or ski pole ferrule – depending on the type or model of ski pole itself.
Ski pole baskets prevent the poles from sinking too deep into the snow by expanding the surface of the ski pole at the bottom and thus reducing the force hitting the snow.
But who says ski pole baskets should be boring?
In addition to their practical use, ski pole baskets can also be a trendy and funny accessory when colored and differently shaped baskets are used.
Ski pole baskets are available in many different sizes, shapes and also colors.
Baskets for ski poles are available in various outer diameters and shapes, which are defined by the purpose of the pole itself (trekking poles, ski poles, free-ride and powder poles, Nordic walking, rollerski and Cross-Country skiing poles, etc...).
Types of Ski Pole Baskets
Ski pole baskets come in many types.
They main categorization depends on the installation method:
Snap-fix system offers quick and secure installation of ski pole basket onto ski pole ferrule or adapter. Basket with Snap-fix system is simply pushed with some force onto the narrower part of ski pole adapter of ski pole ferrule where it finds its place and position to fit.
Ski pole basket can also be mounted by winding it onto the ski pole adapter or ferrule. Threaded type of ski pole basket is compatible with threaded ski pole ferrule or basket adapter – it is wound on either of them as far up as it goes very easily.

Both versions usually come with inner diameter of approx. 13 mm.
What to Look Out For When Buying Ski Pole Baskets?
When searching for the right ski pole baskets, we must pay attention to the following:
the type of installation/mounting (thread or Snap-fix are main types)
basket size and shape (depending on the pole purpose)
quality of material (low prices are an indicator of poor quality of ski pole baskets, which in this case are significantly more fragile with a high tendency to break)
For maximum safety always opt for higher-quality ski pole baskets as a few additional dollars will go a long way.
How to Install Ski Pole Baskets?
 Installation of ski pole baskets is easy.
Snap Fix Basket Installation
 Snap-fix (Snap-on) baskets are simply pushed onto the ferrule or ski pole adapter until they snap into the upper narrow section of the ferrule or adapter. It requires a bit more tooling than the threaded basket, but it's still very easy.
Prepare your tools
Prepare your hammer, ski pole basket and ferrule.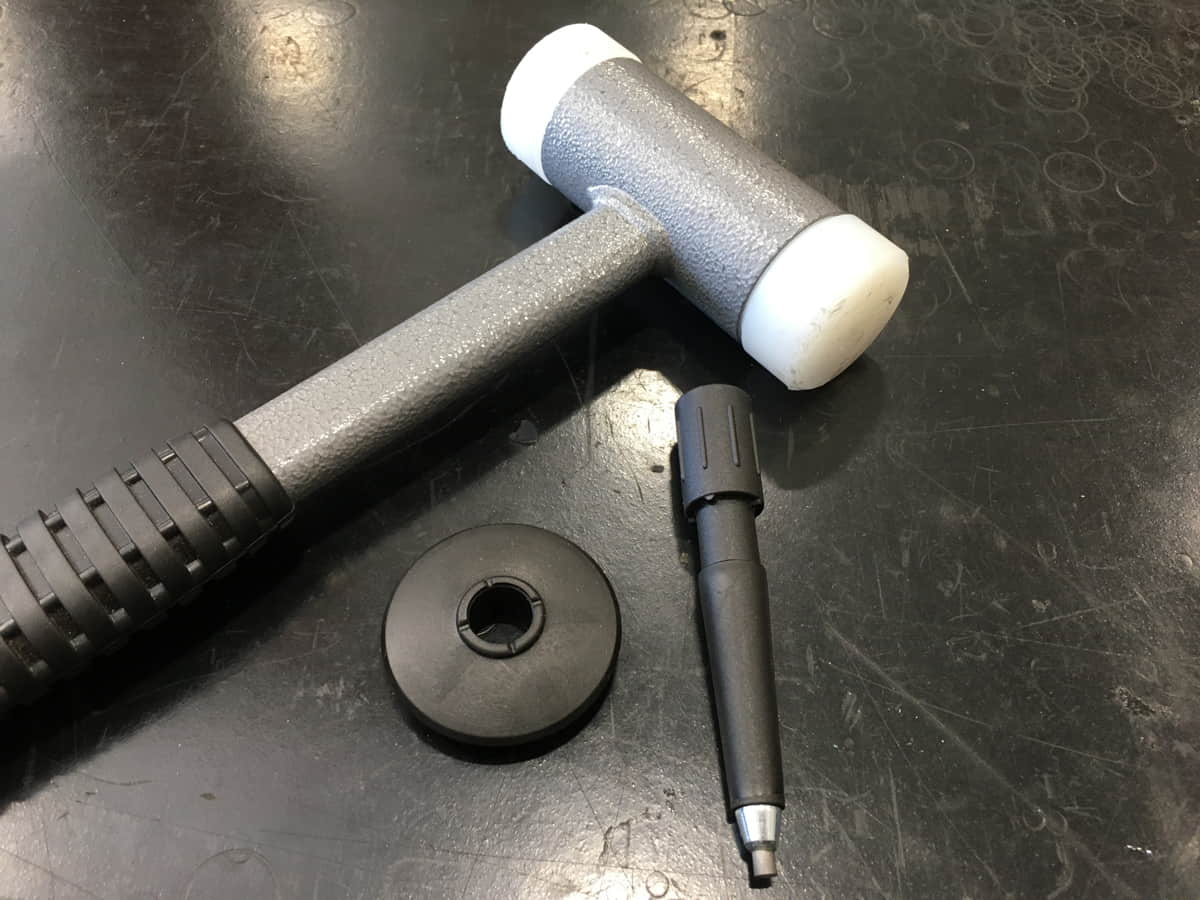 Step 1
Attach the basket to the ferrule.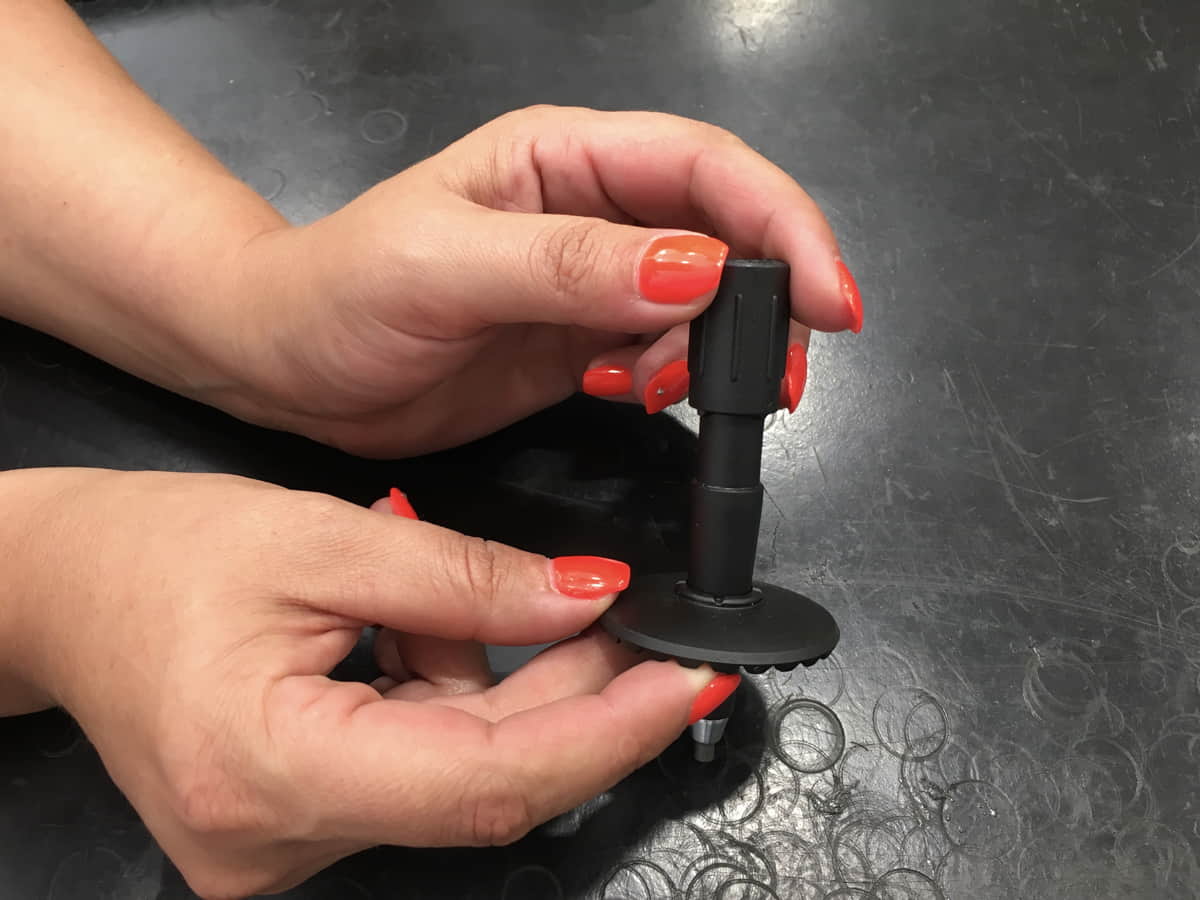 Step 2
Get a round object, a hexagon screw nut, or similar, to hold the basket in place.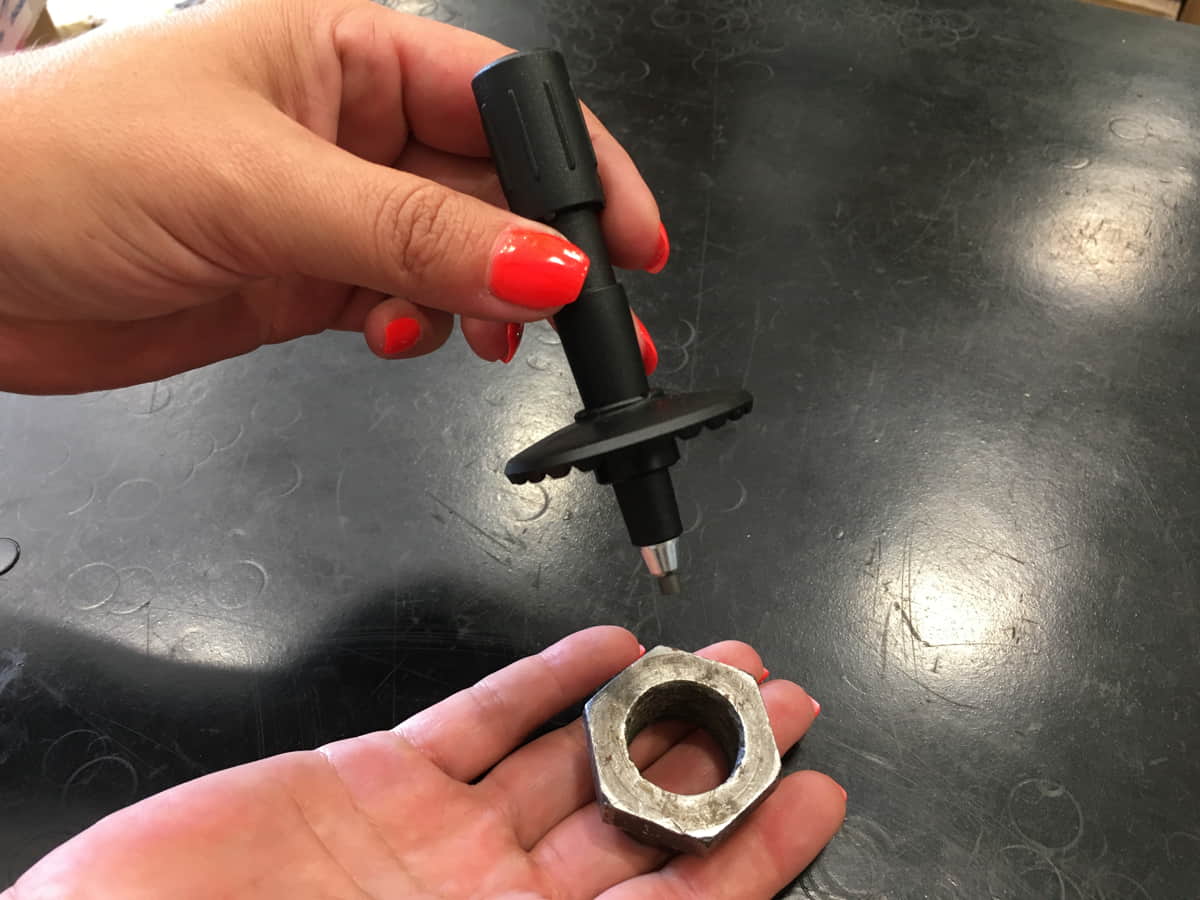 Step 3
Insert the ferrule and basket into the hexagon nut.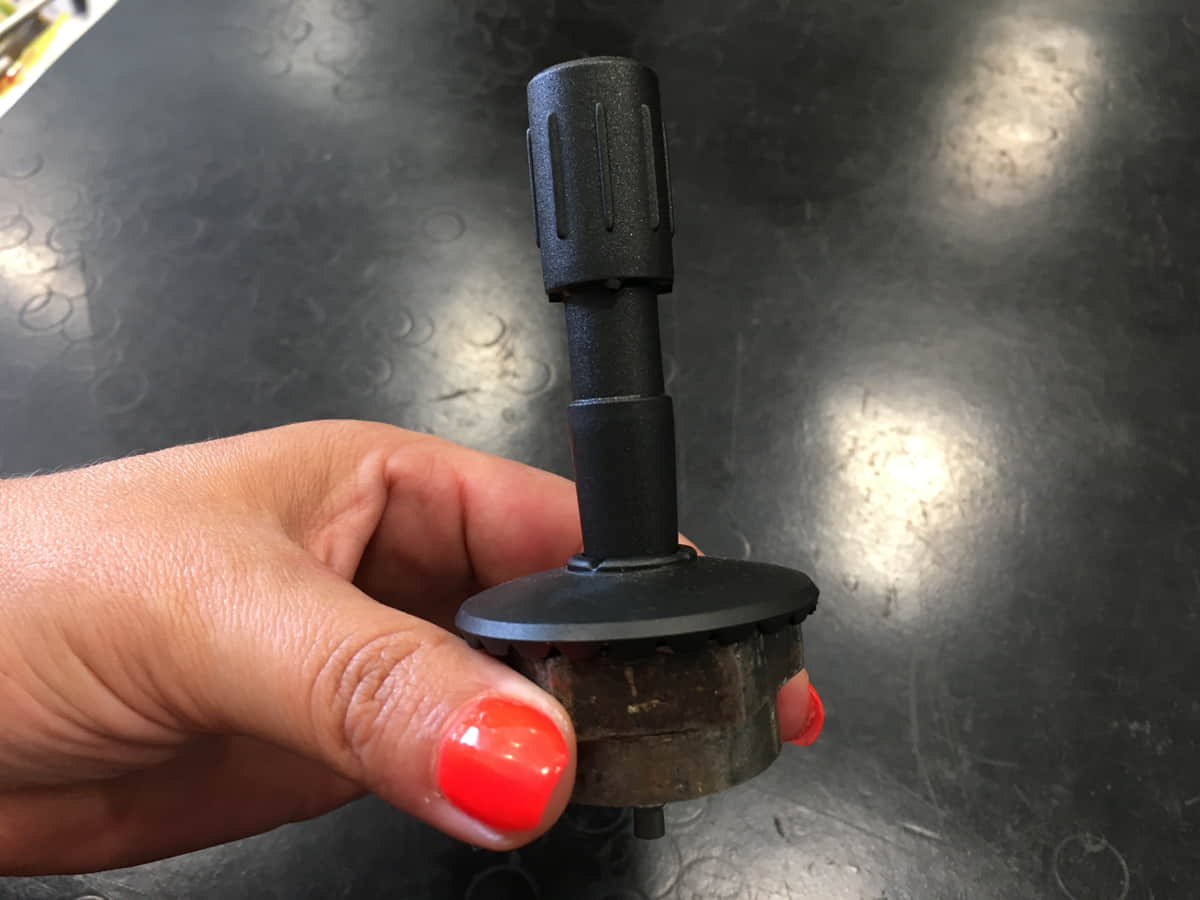 Step 4
Wedge the basket and ferrule. Gently hammer the ferrule in place. Be careful not to damage the ferrule. It will snap in place under pressure.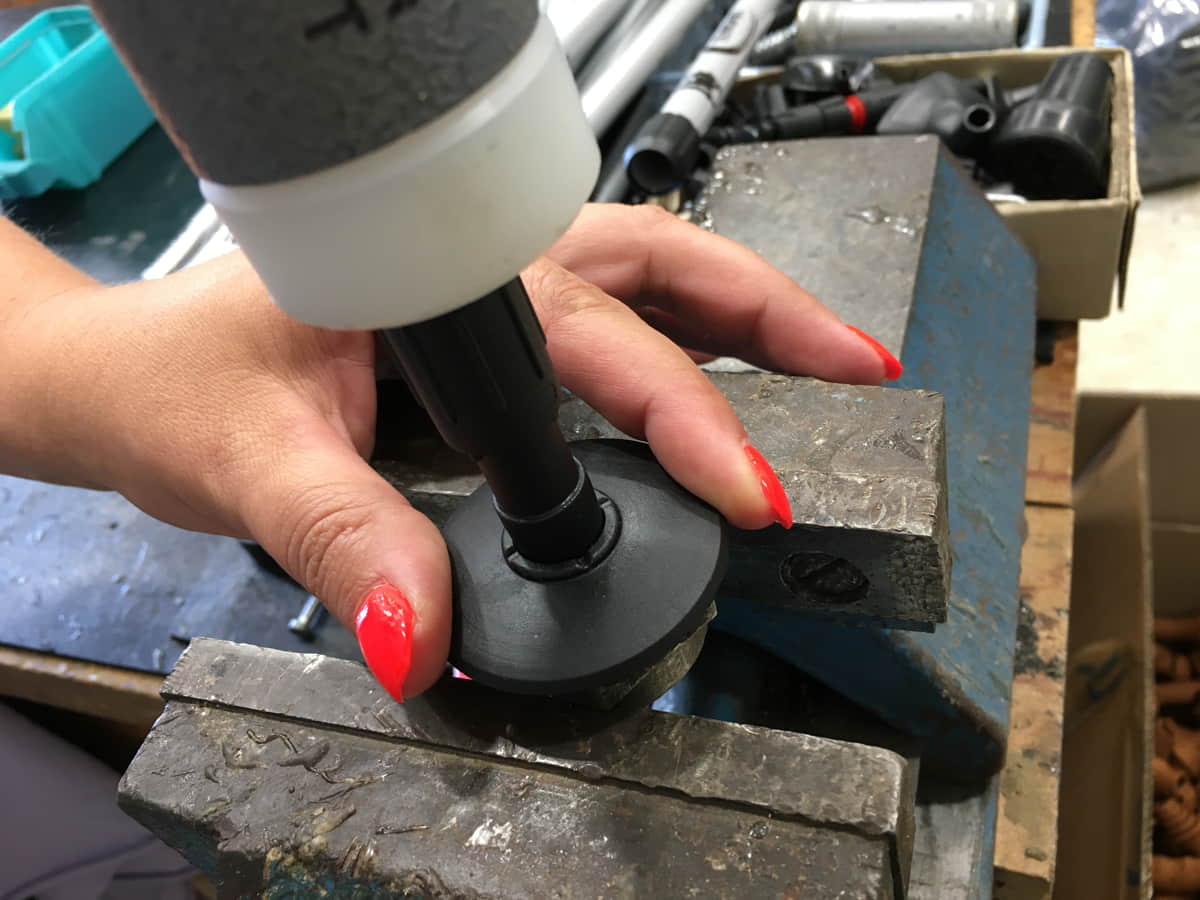 Step 5
Remove the ferrule and ski pole basket from the table.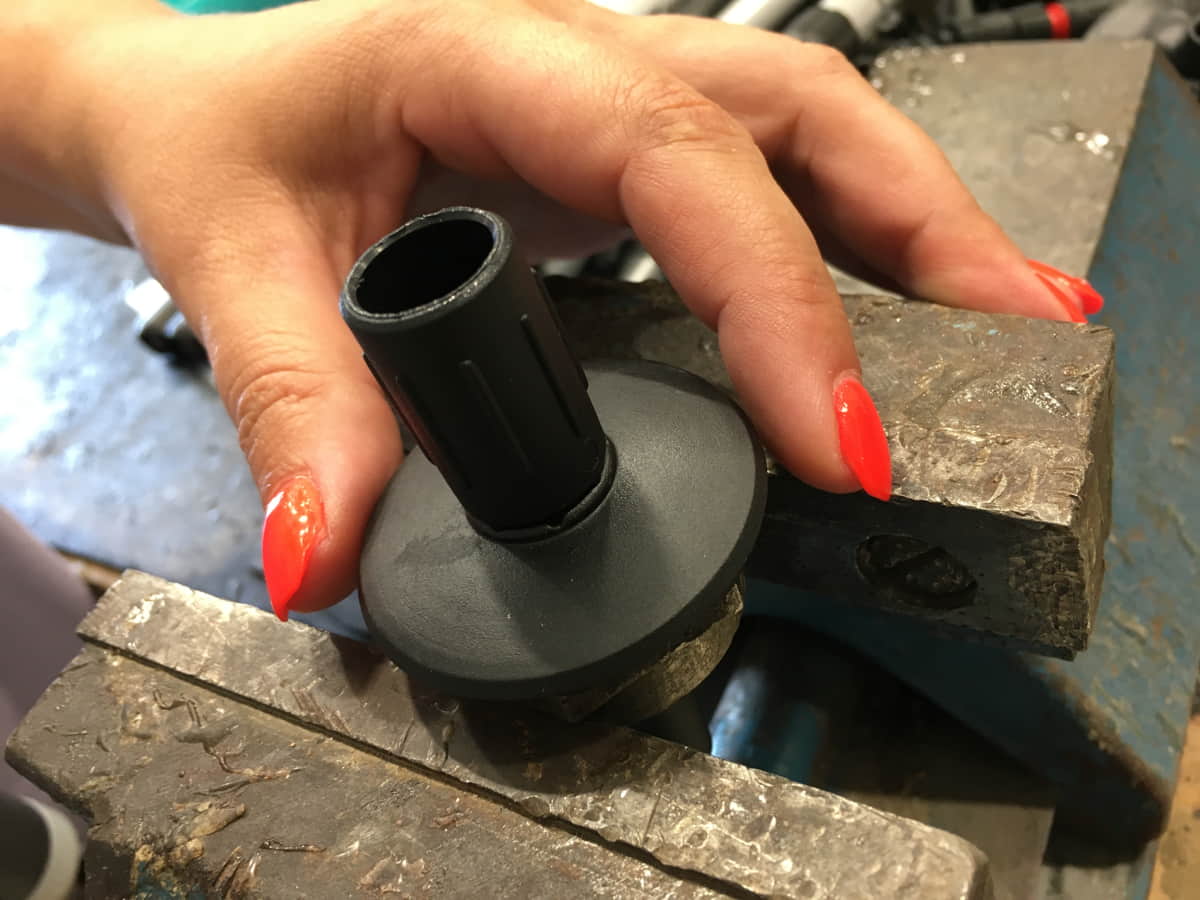 Step 6
The ski pole basket is finally attached.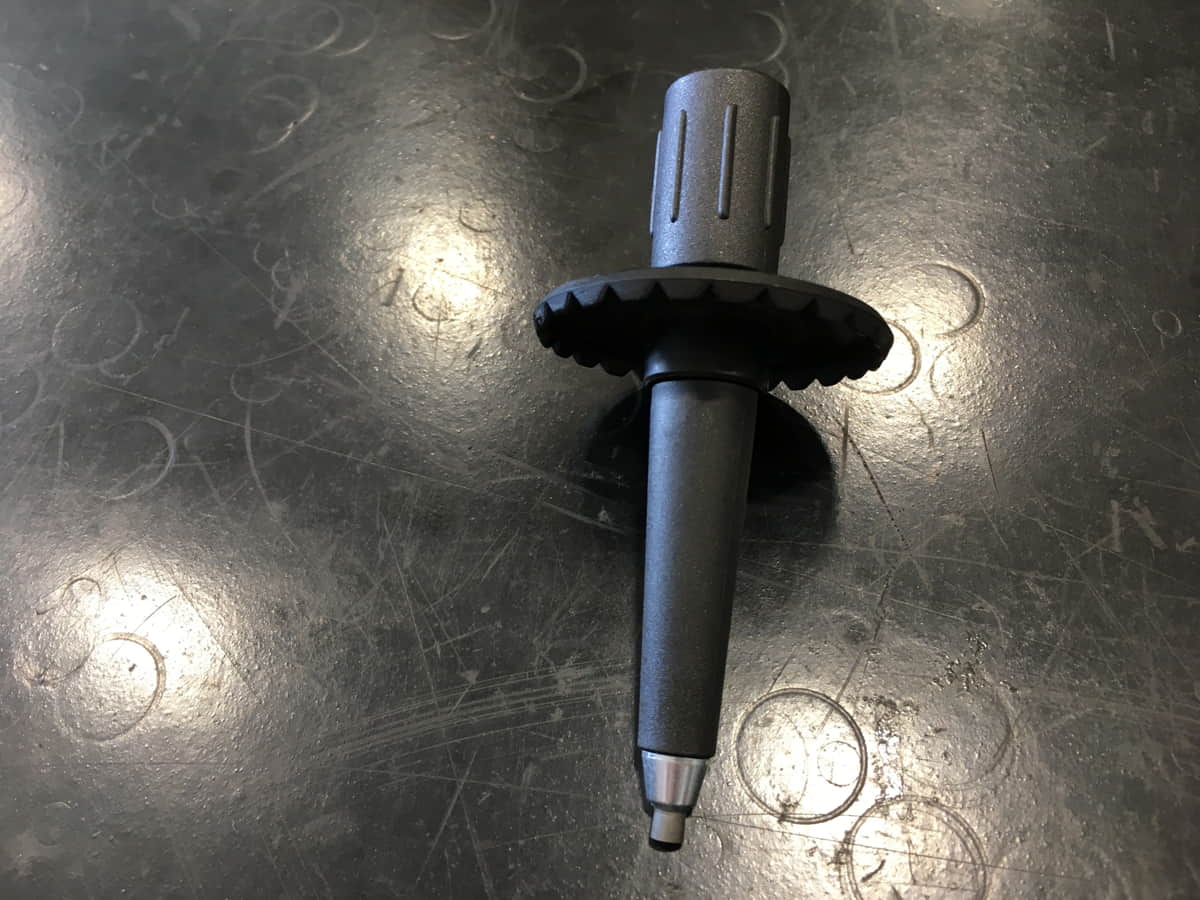 New threaded baskets are wound on the ski pole adapter or ferrule with ease once the old ones are removed (unscrewed).

Threaded basket installation
Preparation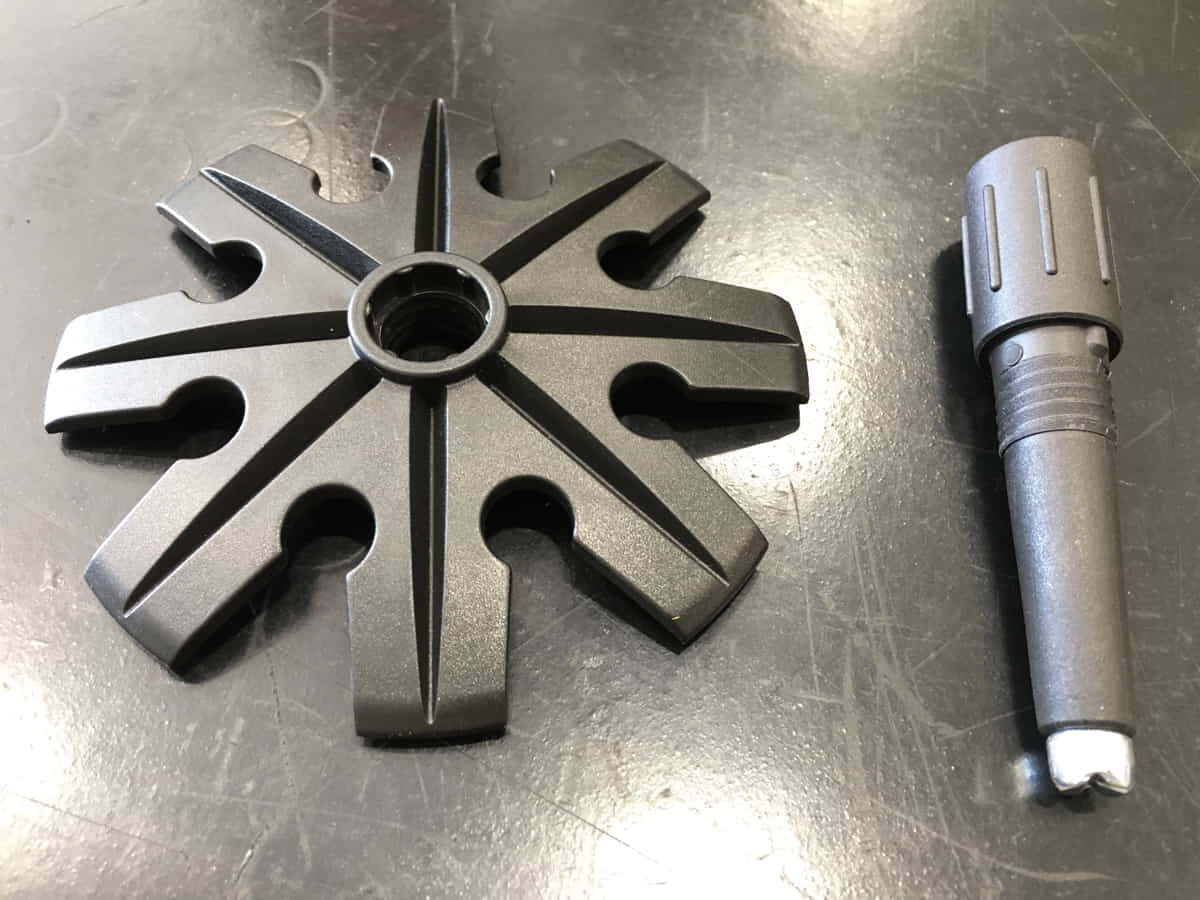 Step 1
Insert the threaded ferrule into the threaded ski pole basket.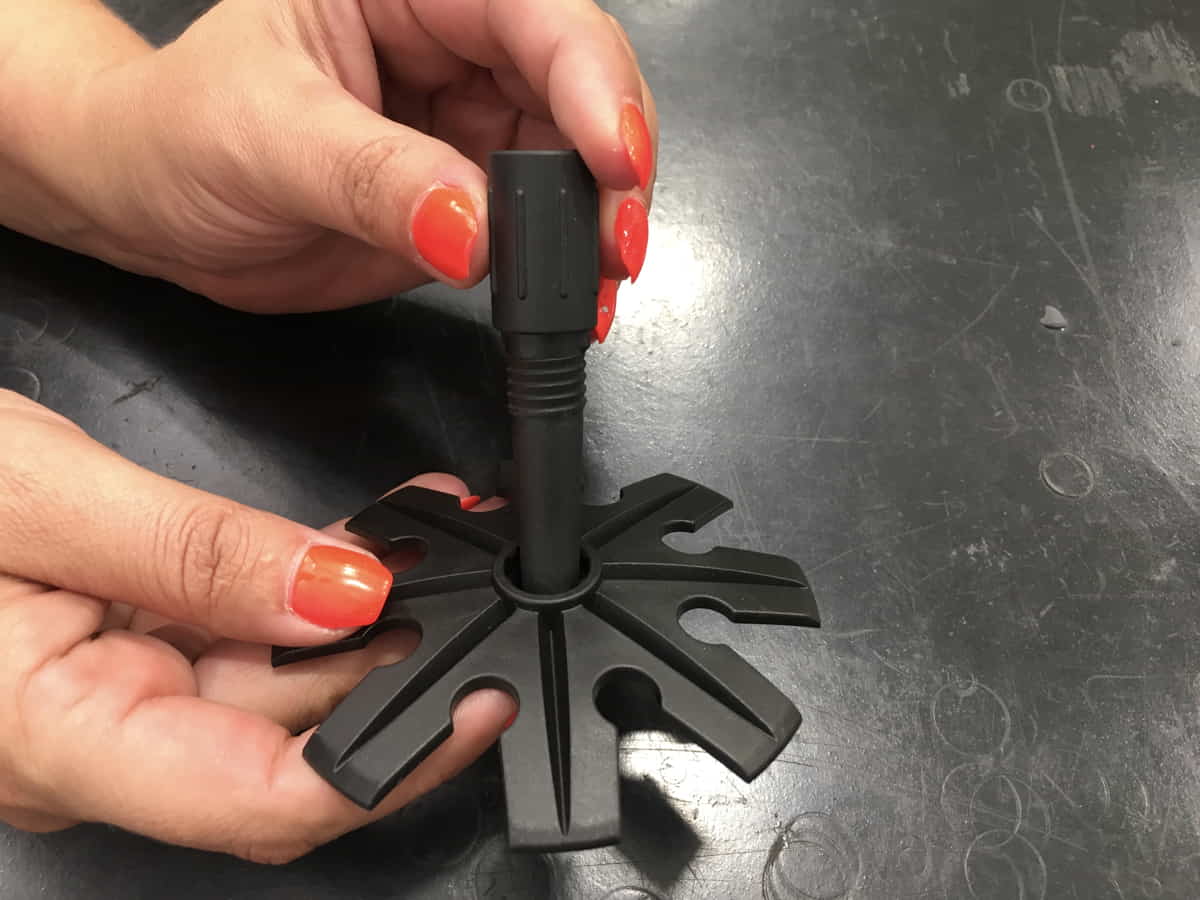 Step 2
Push the ferrule all the way down to the threads.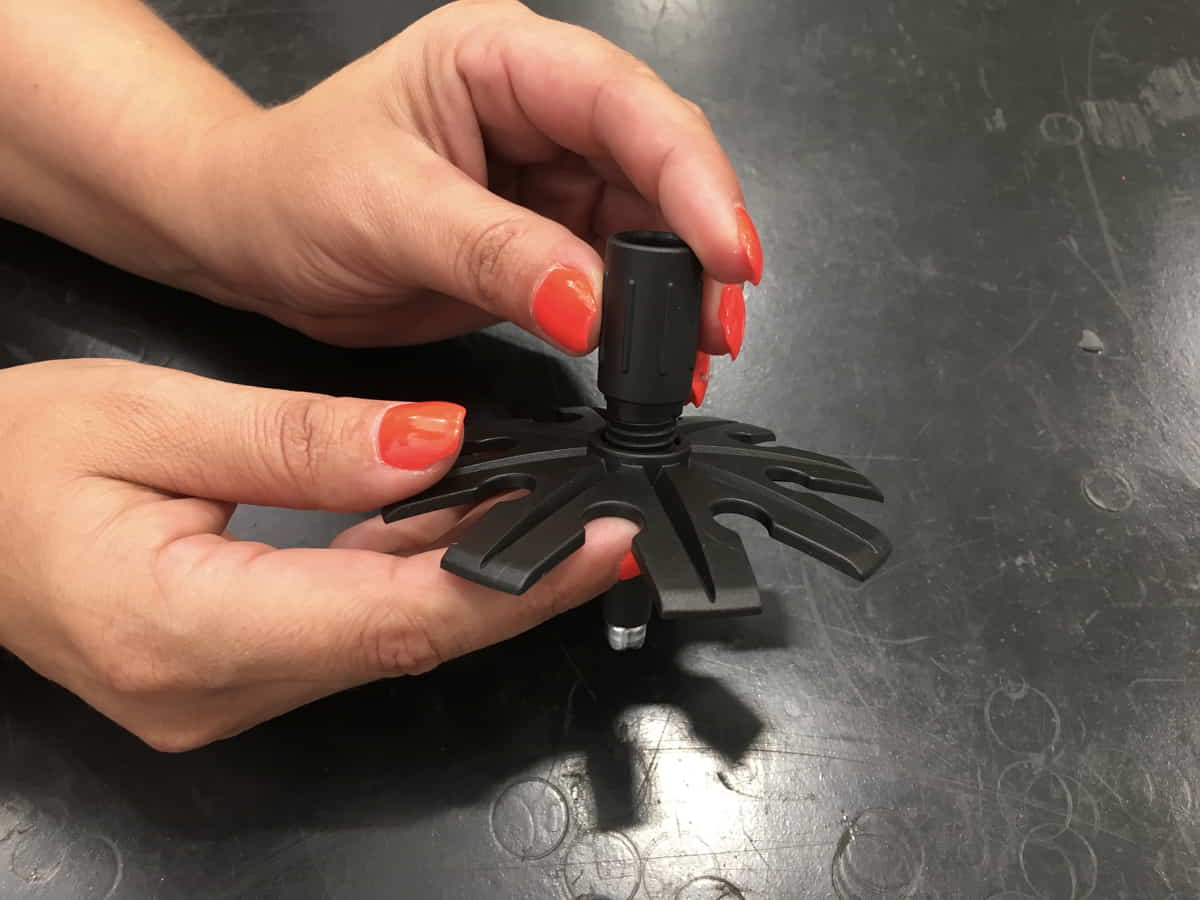 Step 3
Simply screw the ferrule and ski pole basket in place.
Ski pole basket attached!
Bask in the glory of the finished product :)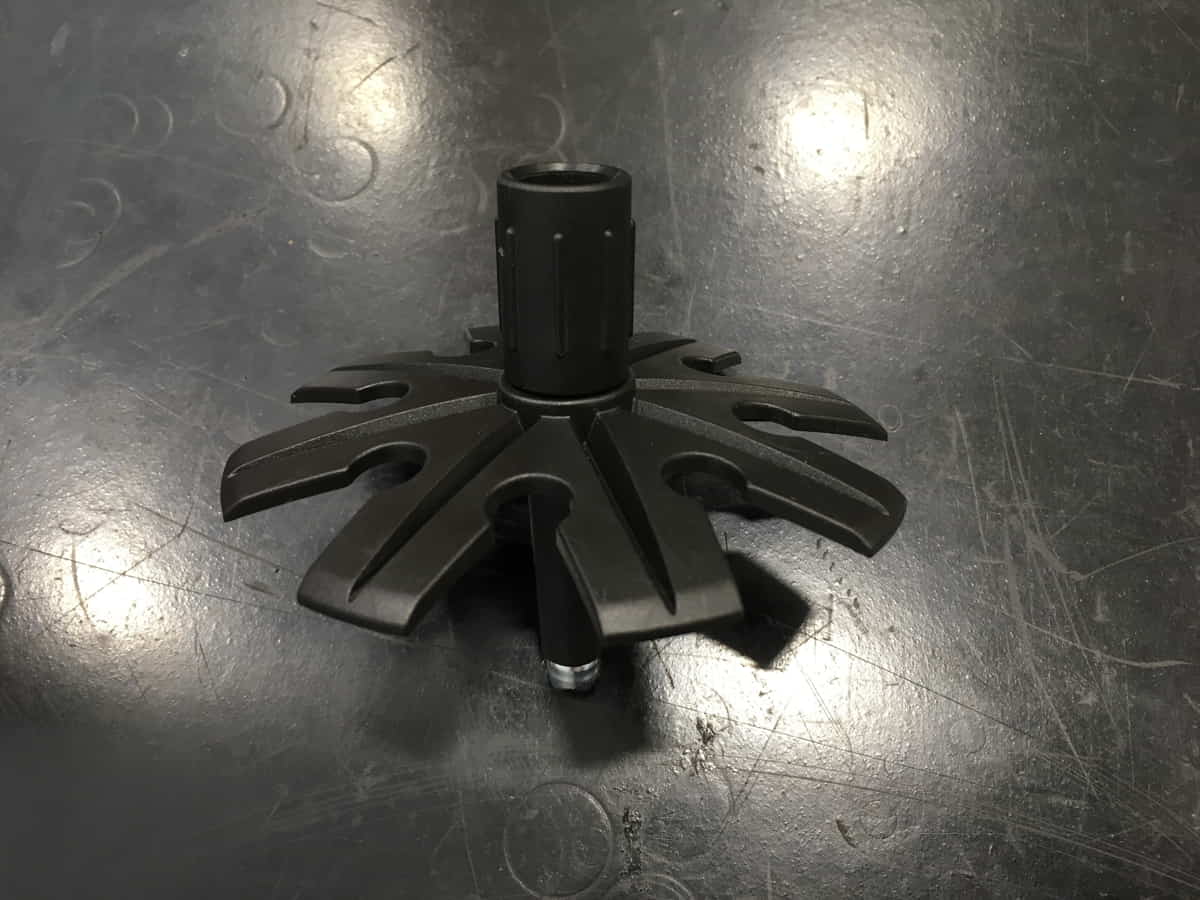 Pro Tip:
In the case of the Snap-fix system, a mild soap can help with installing the basket. Simply lubricate the ski pole adapter or ferrule with mild soap to achieve an easier slide of the basket over the wider part of the tip or adapter.
Warming up ski pole baskets, adapters or ferrules must not be performed by flame or boiling water.
Ski Pole Grips
What Are Ski Pole Grips and Straps?
Ski pole grip straps are an important ski pole accessory and they represent a security band that prevents us from losing the pole especially in alpine skiing.
In Nordic sports (Nordic walking and especially Cross-Country skiing and roller skiing) the strap also has another very important role – it offers extra support for a harder and better push.
Most ski pole grips on the market are made of hard plastic and soft elastomer (rubber-like material). These last ones are quite popular and comfortable to use, plus they can be produced in different colors.
A special category of ski pole grips are grips made of a mixture of natural cork and soft elastomer which results in the most comfortable feeling when holding these grips – they feel extremely soft and warm in cold winters.
The Choice of Ski Pole Grip Depends on the Purpose of Use.
 You can choose among the following grip types:
ski pole grips for alpine poles
alpine grips for ski poles for kids
grips for Cross-country, rollerski and Nordic walking poles
Ski pole straps are usually simply designed and symmetric. Most of them are available with the system for adjusting the loop around the wrist to achieve ultimate security.
First, you put the hand up through the strap, let the pole come down and then let the palm of your hand sit comfortably on the strap while holding the grip.
For free-ride and skiing on terrain with trees, shrubs and bushes, straps should not be used due to the potential arm joints injury in case the basket of ski pole gets caught into branches, tree roots, rocks,... and pulls your arm away from the body.
It's also advised, that straps shouldn't be used when powder skiing: in case of falling forward into the snow our hands stay 'trapped' in straps under the snow and they prevent us from digging ourselves out (danger of suffocation).
How to Remove Ski Pole Grips
Removing ski pole grips from the shaft depends on the material of the grip itself and whether it was glued on or not. The type of glue also dictates the removal method.
Ski pole grips made of hard plastic are usually easily removed from the pole shaft simply by pulling them off. First check if the grip is also screwed on the shaft from the top and if it is, then remove the screw and see if the grip comes off. If not, dip the grip into hot water for approx. 2 min., so the grip warms up to the point where it can be pulled off. The shaft can be also put in a vice that is not tightened – just enough to hold the grip while pulling the shaft out with a twisting motion.
If hard plastic ski pole grip was glued onto the pole with hot melt glue, the glue will soften while warming up the grip, but if the two-component epoxy glue was used, which doesn't soften much with warmth, then the grip can be removed only with cutting it apart with a small saw.
Ski pole grips made of soft elastomer (rubbery material) or soft cork should not be removed with warming them up. After removal of the screw from the top of the grip, put the shaft in a vice that is not completely tightened – just enough to hold the grip while pulling the shaft out with the twisting motion. In case the soft grip was glued onto the shaft and it can't be removed from the shaft nicely - there's no other way but to cut the grip apart with a Stanley knife or small saw.
How to Change Ski Pole Grips
The change of ski pole grips can be performed at home with basic workshop tools.
Most ski pole grips are mounted onto poles simply by being pushed onto the pole shaft from above with a thin layer of glue if needed.
Ski Pole Tips and Ferrules
What Are Ski Pole Tips and Ferrules
Ski pole ferrule is a high quality plastic component that is installed to the bottom end of the ski pole. Its inner shape can be cylindrical of tapered – depends on the type of the pole shaft it's mounted on. Ferrules for ski poles come with various inner diameters which are determined by the outer diameter of ski pole shafts they are combined with.
Tips for ski poles represent the very end of the ski pole – they are inserted into ski pole ferrules and they have different shapes based on the ski pole model:
pointed XC shape for Cross-Country and rollerski poles
rounded shape for hiking, trekking and alpine ski poles
Ski pole tips can be made of steel or tungsten carbide. Tungsten carbide (also known as widia) is the most frequently used material for tip inserts of our ski pole ferrules. It is a chemical compound containing powder forms of cobalt and tungsten carbide which are during a specific sintering process fused together into a dense "hard metal".

How To Choose the Right Ski Pole Ferrule or Tip
The main criteria that dictates the right choice of ski pole ferrule is its inner shape.
The bottom part of the pole is either tapered (conical) or cylindrical. Based on that fact the right inner shape of the ferrule is chosen.
The second criteria are its size and the third one is the shape of the tip insert.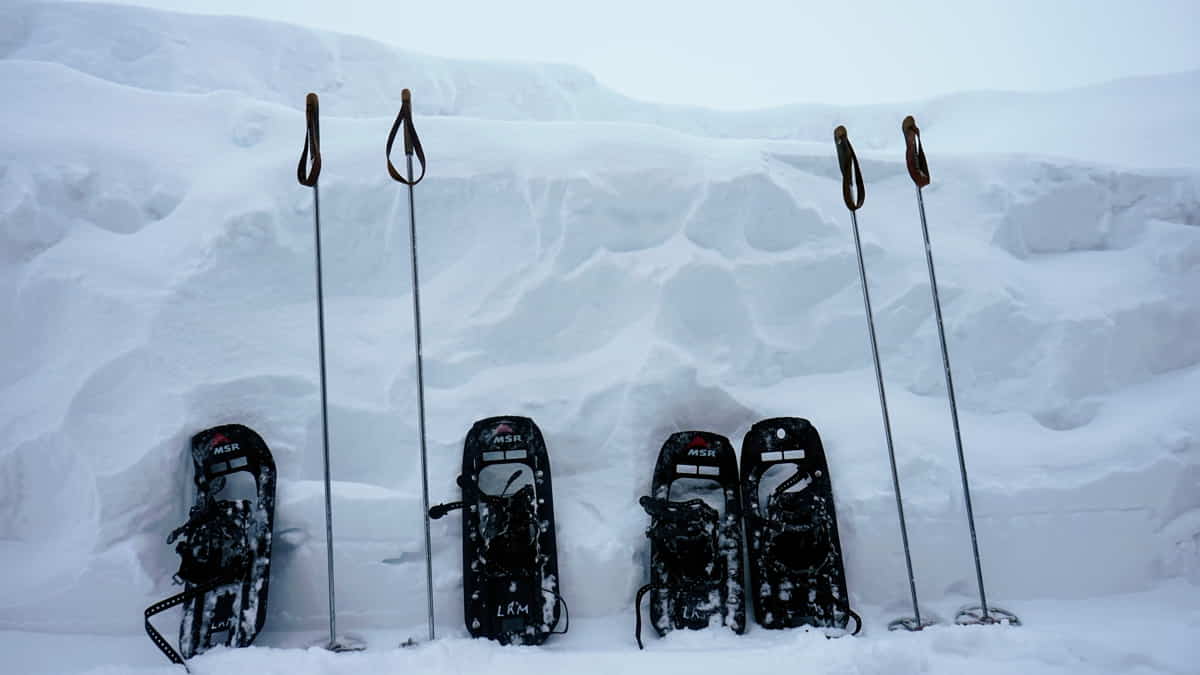 Ferrules for tapered shafts are mainly used on rollerski, alpine and Cross-Country skiing and also Nordic walking poles.
Poles for Nordic sports and rollerski are usually combined with well pointed XC tip inserts (carbide or steel). On the other hand, poles for alpine skiing and also some Nordic walking poles are equipped with rounded alpine tip inserts (carbide or steel).
Tapered shaft ferrules come with different inner diameters (IDs), so it's necessary to make all needed measurements before making a purchase.
Please check the instructions for choosing the right size of ski pole ferrule by measuring the diameter of poles with conical (tapered) bottom shafts:
https://www.ski-poles-accessories.com/documents/ski-poles-acc/documents/Instructions-for-measuring-the-diameter-of-XC-poles.pdf
Ferrules for cylindrical shafts are mostly mounted on hiking and trekking poles (including all kinds of bamboo poles). They are all equipped with rounded alpine tip inserts (tungsten carbide or steel) and they are available with different inner diameters determined by the outer diameter (OD) of the bottom pole shaft - most commonly 12, 14 and 16 mm.
Conclusion
All kinds of ski poles together with rollerski, hiking and trekking poles are a piece of equipment that needs maintenance and care. Now and then some part of the pole becomes worn out, outdated, it breaks or breaks off even.
That is the moment when a decision on simply buying new pair of poles or repairing the existing ones has to be made.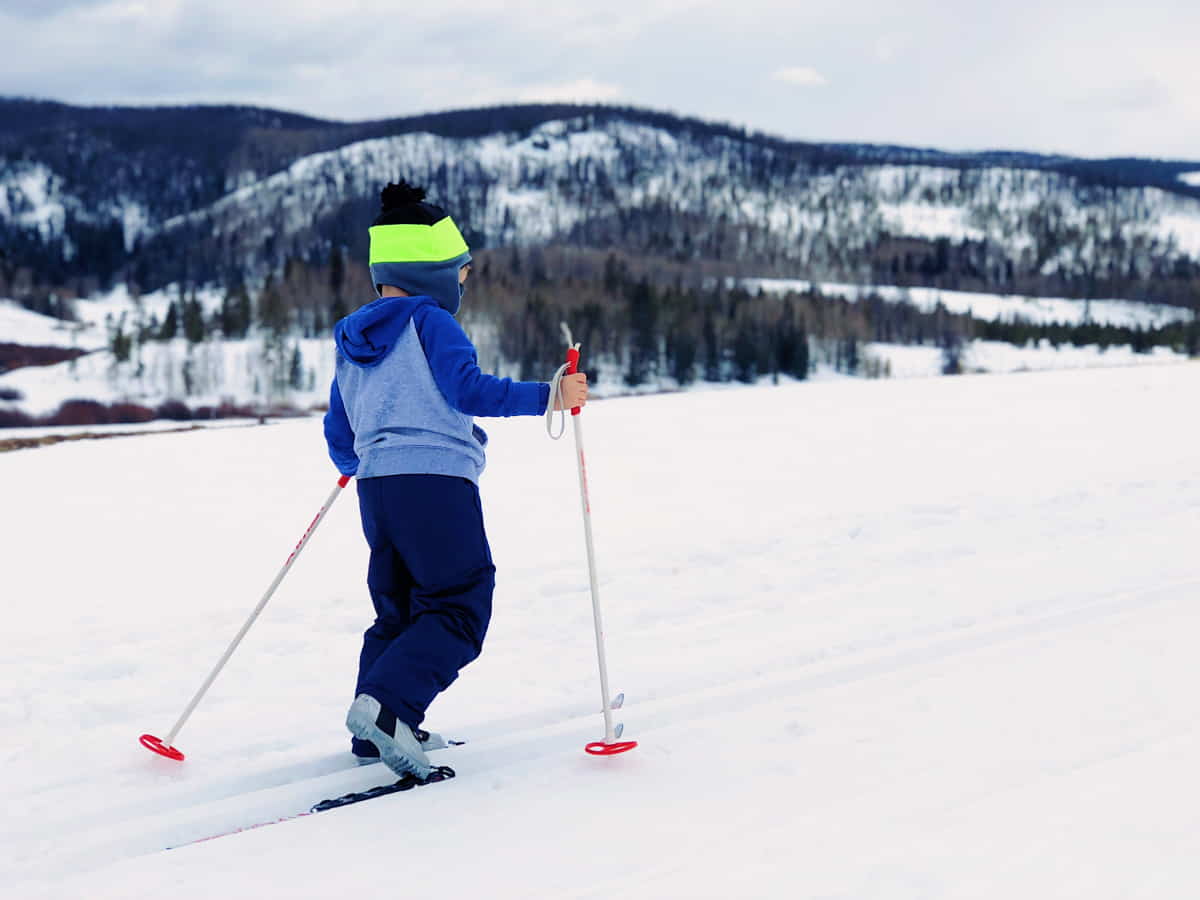 The easiest way is to throw the poles away and buy new ones. But with care and consideration of our planet's health, the wisest choice might be just to replace the broken or worn out part.
This is a part when we jump in. We offer you all kinds of ski pole replacements from tips to grips, made of various materials and in different sizes and colors. We might have just the part you're searching for and your old poles could have another round or two!
We welcome you to visit our web shop www.ski-poles-accessories.com and if in doubt, please contact us. We're happy to help!

Nazaj na seznam člankov